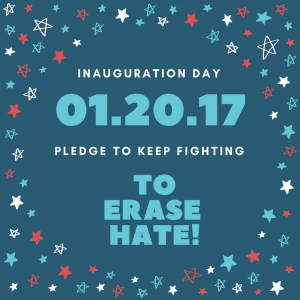 The Matthew Shepard Foundation's "Erase Hate" Project is the heart of the organization's work and mission. Judy and Dennis Shepard created the Foundation shortly after Matthew's death, with a goal to "Replace Hate with Understanding, Compassion & Acceptance".
Programs of the Matthew Shepard Foundation "Erase Hate" Project include:
"The Legacy of Matthew Shepard"
Through her national speaking program, Judy Shepard shares Matthew's values of respect and dignity for others. She is determined to make a difference - to do what she can to ensure that no other parent will have to endure what she has. Judy speaks to audiences nationwide about what they can do to make their schools and communities more accepting of everyone, regardless of sex, national origin, race, religion, disability, sexual orientation, gender identity and/or expression. This program has been presented to over one million people at colleges, high schools, universities, churches, businesses and symposiums worldwide.
Hate Crimes Legislative Program
Since 1998, the Matthew Shepard Foundation has been at the forefront of the effort for Congressional passage of the Local Law Enforcement Enhancement Act (LLEEA), more commonly known as the Hate Crimes Bill. From speaking to the Senate Judiciary Committee to regularly lobbying Congress, Judy Shepard has been a leader in advocating and pushing for this important protection for the gay, lesbian, bisexual and transgender community. In addition, the Foundation continues to support and aid in the passage of statewide Hate Crimes legislation.
"Small Bear, Big Dreams"
This Pre-K-12 educational program teaches the values of respect for all people and acceptance of individual differences. The life of Matthew Shepard is chronicled in the storybook, "Small Bear, Big Dreams". Within its pages, teddy bears celebrate Matthew's life and aspirations as well as his struggles. A vision of hope and the celebration of diversity are central to this touching story. The educational program includes an activity guide, teacher/parent's guide, and an assortment of unique teddy bears that illustrate the value of diversity. A pro-active approach is taken in the lessons to teach compassion, acceptance and respect; as well as promote the promise that one person can make a difference. National distribution is slated for the Spring of 2007.
"ERASE HATE" PURPLE WRISTBANDS
The 'Erase Hate' Wristband program is one of the Matthew Shepard Foundation most visible programs. Schools, communities and individuals around the country purchase the wristbands as a way to engage individuals in the discussion of "Replacing Hate with Understanding, Compassion and Acceptance".
If you are interested in receiving wristbands for your schools, faith based groups, families or friends, please visit the Matthew Shepard On-line Store.




Were are you Erasing Hate?
Show us where you are "Erasing Hate' by submitting pictures of you, your families and friends wearing the 'erase hate' wristbands.
Submission can be sent to Erase Hate Contact Page Please include the picture, your name and location. All submissions are subject to approval.